Fes - volubilis - Moulay Idriss - Meknes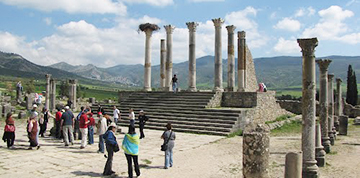 After breakfast, we set off to the city of Walili known as Voulibilis, which is a Roman ruin dating back to 2000 years and was also declared as a world heritage in 1994. After that, we continue to the city of the founder of the first dynasty in the kingdom, Moulay Idriss who spread Islam in Morocco, then we go en route to the imperial city of Meknes, known as the Ismaili city referring to its founder King Moulay Ismail in the 17 century.Return to Fes in the evening.
Fes to the Middle Atlas Mountains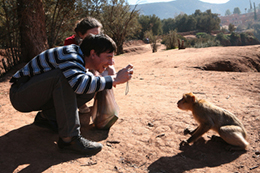 Our journey to the Middle Atlas Mountains Range, starts early in the morning where you will enjoy scenic and spectacular view during the ride such as the waterfalls, Lakes, Cedar trees forest, the city of Azrou and other berber villages.return to Fes in the evening.
Fes - Rabat.
The tour to the capital city, Rabatone of the fourth imperial city of kingdom, starts early in the morning. It is famous of its fortified and high walls as well as its must see sites such Kasbah of the Oudaya which was built in the 12 century during the ALMohades dynasty,and places like Hassan towers and much more.Return to Fes in the evening.
Fes - Friouato Caves/ or the Gouffre of Friwato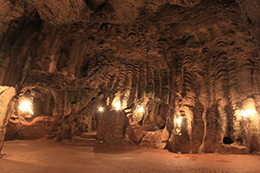 Visit Taza's most famous attraction, The Gouffre of Friouato. A unique journey to discover the largest and deepest cave of all north Africa.Do not forget to take with you your dirtiest clothes before attempting to dwell into the mysterious tunnels underground.It is also recommended to visit the cave when it is dry around the spring time.
Day trip / excursion to Chefchaouen & Rif Mountains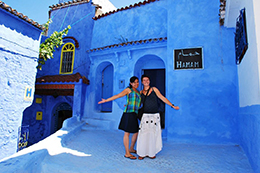 After breakfast in your Riad or hotel, we will drive north to explore an extremely different culture and lifestyle from Fes. Chechaouen is nestled at the feet of the Rif Mountains by which the name Chaouen "horns" has been adopted because of the shape at the top of the mountains; it was founded in 1471 as a small fortress by Moulay Ali Ben Moussa who is a direct descendant of the Prophet Mohammed. Chefchaouen fell under Spanish occupation and was emancipated in 1956.It's known as "blue city" for its traditional buildings. Enjoy a walk to explore the white and blue washed walls of the medina and the markets that offer some unique native handicrafts.Chefchaouen on the old road to Larache. There is also a ruined mosque built by the Spanish, with stairs still in the tower. During the drive back to Fes, you can enjoy nice view of Rif Mountains.

What is included in the price :
● Comfortable Car with air conditioning.
● Experience driver speaking English.
● Fuel.
● Entrance fee in Volubilis.

For more information : fesmoroccotours@gmail.com Or Contact us